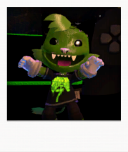 FredAM1 (a.k.a. Fred the Cat) is the co-creator of the CatBrothers and is a main character in it. He and raprockrules (Rap/Captain Rap) created the species "Sackcats" and later he made "The CatBrothers Movie" and then created "The CatBrothers Series" which follow the events after the film.
Appearance
Edit
Fred is a green cat with black ears, and alot of fur on his cheaks and forhead. He wears white gloves, a blue bandana, and black jeans.
Creation of the Catbrothers (According to Fred)
Edit
Freds Obsession (Christmas 2009 - June 2010)Edit
Well Christmas had passed and Fred was invited for a sleepover at Captain Raps house. He came to sleepover to play the game that Captain Rap recently got for Christmas. Captain Rap showed the game (LittleBigPlanet) to Fred and also showed that it was a creation game. Now Fred is a big fan of creation games, he always wants to show his creative side to people. Before Captain Rap showed him the game, Fred use to write books and comics of stories he made, so this is definatly a game Fred wanted. There was only only two things that stood in his way of getting the game; He had no money, and no PS3. Fred first started working to get as much money as he could, but after a some months he only ended up with $120.01. It later became his 13th birthday, which turned out to be a suprize party! Almost of all of Freds friends and family showed up, each one giving him tons of cash! He then came to the amount of $413.02. So the next day he bought a PS3 and LittleBigPlanet, but yet again had another problem (No internet connection.) It took him months to get internet, but he finnally got it.
Making of their Title (June 2010)Edit
Fred was first known to be "Fred the Buisness Man" (Appeared to be some orange version of Elvis.) Captain Rap on the other hand was anything he wanted to be, like a: Ninja, Stunt Man, A blue Buisness Man, Blue Cat, and so much more. But Fred noticed Captain Rap has been wearing the blue cat costume alot lately. So Fred then got the idea to dress up like a green version of Captain Rap (To be matching.) They both thought it was cool when Fred then decided that they should be called "The CatBrothers." (The idea of sackcats was not yet thought of ,but the title was simply Cat + Brothers combined.)
Becoming a Sackcat (July 2010)Edit
After Captain Rap showed Fred a game trailer of the upcoming game "LittleBigPlanet2," They started preparing what they should make before the game came out. Fred also relized that he can make movies in the upcoming game. Fred then remembered about all the stories he created, which made him want to create a movie. So he thought of movie ideas that he could use. He later thought of "The Buisness Man the Movie!" He planned out the story and it was awesome so far, but he then thought to himself "Is people really gonna watch a movie with a buisness man being the main character?" So he decided that the idea was stupid, and looked for a new title. He then came to the idea that he should make a movie of "The CatBrothers." He wanted to tell Captain Rap, but the idea was too long. So Fred made a level just for him, where it gave Captain Rap all the information he needed. Fred also pointed out that the main species of the characters are called "Sackcats." Captain Rap became excited about the idea and came up with the idea of "SpaceKat Pirates."
LittleBigPlanet2 (2011)Edit
The movie was made and published by June-5th-2011. After the movie was created, Fred decided and started making "The Catbrothers Series." which came out July-29th-2011. After a number of people saw the movie and series, Fred saw that alot of people wanted to become sackcats like Fred and Captain. Now they both made sackcats out of people before, but this time people were asking them to become sackcats. So Fred started inviting the people that wanted to become sackcats, helped them make their costume, gave them a name, and wrote down their name so that he could keep track of all the sackcats. At first, it was fun and Fred even decided to make a club for his sackcats (That only sackcats could enter.) That's when chaos began! People were becoming sackcats just so they could get in the club or so they could meet Fred. Fred sadly closed down the club so people wouldn't join for the wrong reason. This was a Great Depression for the sackcats, so Fred gave another purpose of becoming a sackcat, he made "Sackcat News." The news gave details about the series, gave a count of all the people that became sackcats, a game show, and if you became a sackcat, there was a possible chance that you could be on the news! It was great! Everything was running as it was suppose to be.
LittleBigPlanet2 (2012)Edit
The Sackcat News was later taken down, and Fred told people that if they wanted to become sackcats they no longer had to visit him. Fred became very stressed of a new person wanting to become a sackcat every few seconds to the point where he basiclly just quit. The Sackcat New was taking down due to it taking up too much time and distracting Fred from working on the series. Fred then decided to create "The CatBrothers Subscribe Option" (Which gave people the option to know when the next episode/level came out that is related to "The Catbrothers.")
Information
Edit
Color: Green
Age: 16
Occupation: LBP2 Film maker; Great Friend
Best Friend:
Captain Rap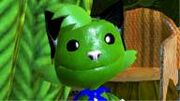 Home: America
Gender: Male
Status: Possibly working on "Captains and Captains"
Another Sackcat, Raison, looks almost exactly like Fred but only with purple skin.

Another Sackcat, Dorian (Sonic1854), also looks almost exactly like Fred, but with orange skin.

Although Captain Rap, Jack and Lion have many versions of their costumes, Fred only has 4 known costumes.
Freds favorite color is blue, but since Captain Rap already chose the color blue, he chose green.
Appearences
Edit
The CatBrothers Movie
The CatBrothers Series: "HollyWood"
The CatBrothers Series: "Making The Movie"
The CatBrothers Series: "The Video Game"
The CatBrothers Series: "Catch that Rabbit!"
The CatBrothers Series: "Court of Love"
The CatBrothers Series: "Captains and Captains"
The CaBrothers Subscribe Option
A CatBrothers Carol (Cameo)
The CatBrothers "Halloween" (Taken Down)