Jack the Cat
Edit
Jack the cat is a sackcat who joined on April 16th, 2011, being the fourth sackcat to join. He is also the inventor of denied kitty.
General Info
Edit
Age: 4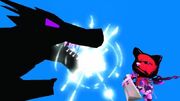 Home: MA, USA 
Best Friend: right hand 
Occupation: stripper
Status: active  
Has created human versions of the main sackcats. (Photos lost by accadental memory wipe of Flash Drive)
He was the first red sackcat.
He was purple until meeting lion and becoming red.
He has 25 versions of his costume, second only to lion, with over 60 versions.
Was the star of "A Catbrothers Carol"
Invented Denied Kitty
First met Lion when he was in a nyan cat costume, instead of his purple cat.
Edit
Playing videogames, such as littlebigplanet, uncharted 3, or minecraft.
Calling people homosexuals.
Appearances
Edit
The Catbrothers "Making the Movie" (Debut)
The Catbrothers "The Video Game"
The Catbrothers "Catch that Rabbit!"
The Catbrothers "Court of Love"
The Catbrothers Halloween (Taken down)
A Catbrothers Carol
Attack of the Zombkats
Lion Shorts 3
The Catbrothers subscribe options (Cameo)
Future Apearances
Edit
The Sackcat's Last Chance
Through The Alternate Universes
NegaTwins
The Catbrothers "Captains and Captains"
How to be a Jerk
More future episodes of the Catbrothers
Denied Kitty
Sackcat's Last Chance