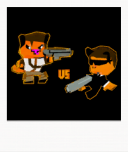 SuperGhostbuster is the creator and a main character in Sackcat Roomates, a spinoff series. He will also appear in B-0PZ_R3TR0's Through the Alternate Universes movie.
Info on GhostEdit
Color: Tan
Gender: Male
Age: 12
Occupation: level maker
Best Friends:
Status: Working on 13 books, 1 comic series, 4 real-life cartoons, 2 LBP2 series, 5 LBP2 films, a LBP2 fighting game, a LBP2 level series based on UNCHARTED and going back to school.
Ratchet941 is also Ghost.
He has 24 projects going on, and he still hangs out with friends.
His sackcat's hair is brown, but in real life he has black hair.
His Sackcat's personality was based on his real personality, but he added a little daredevil to Ghost.
Ironically, Ghost gets writer's block quite often.
His 3rd cartoon is being kept a secret.
He has found seven sackcats (all of which are his friends):
He has the most pages on the Ratchet & Clank Fan Fiction Wiki.
He chose the color orange for his Sackcat even though his favorite color is red.

In The War for U.Y.A., he plays Luke the Sheep Trooper, who is aggresive to show that just because he's small, doesn't mean he's not fierce.
In Sackcat Roomates, he's himself

He appears as a toilet in The Sackcat Series
AppearencesEdit
Sackcat Roomates [Episode 0: Pilot]
Sackcat Roomates [Episode 1: Trash Ca$h]
Sackcat Roomates [Episode 2: CinderBooks] (cameo)
Sackcat Roomates [Episode 3 Sneak Peek 2]
Future AppearencesEdit
Real-Life
Edit